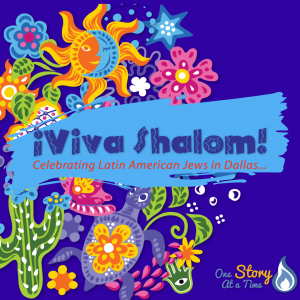 This year, the Dallas Jewish Historical Society will be celebrating the Latin American Jewish community in Dallas with "Viva Shalom!," our biennial "One Story at a Time" event.
Like so many other organizations in our community, we are feeling the effects of COVID-19. To preserve the health and safety of our staff, volunteers, and greater community, we have made the difficult decision to postpone this event until Fall 2020. We are currently working to set a date and will let you all know as soon as possible. 
In the meantime, we are still committed to preparing for this event and will continue gathering data on the Latin American Jewish Community to incorporate into our permanent collection.
We encourage you to participate in our survey (click here or see link below) and share your family's experience before and after making your home in Dallas.
The last question in the survey will prompt you to select how you would like to share your story in more detail. We recommend oral history interviews because of the richness of the final product—a video to share with your family for generations to come. Please note that Oral History interviews conducted by DJHS staff and volunteers are suspended until further notice. We will resume this service as soon as we know it is safe for our community. 
The Viva Shalom! Presentation and all stories and other data collected will become a part of the Dallas Jewish Historical Society's permanent reference collection detailing Latin American immigration to Dallas.
Please share this survey with others in the Latin American Jewish Community in Dallas so that we can include as many individuals and families as possible.
Thank you for your participation! Please don't hesitate to contact our office at 214-239-7120 or [email protected] for more information or if you have trouble accessing the survey.