Summer camp – a rite of passage—began as an American cultural movement in the late 1800s when organizations like the YMCA worked to introduce inner-city children, who often came from immigrant families, to nature.
During the early-mid twentieth century, the Jewish community built upon this concept leading organizations like the Union of Reform Judaism, as well as Conservative and Orthodox governing bodies, to open camps all over the country that catered to regional Jewish communities, sprinkling in both fun camp traditions and Jewish education.
The importance of the Jewish summer camp is staggering. According to studies conducted in 2010 and 2011, participating in a Jewish summer camp increases the likelihood of an individual actively engaging in their local Jewish community in adulthood; while a study in 2013 suggested that nearly 30% of American Jews have attended an over-night camp at least once in their lives. Camp may also be one of the only avenues for Jewish-cultural immersion if it is not prevalent in homes or communities.
Through the lens of summer camp, "Jewish-ness" is taught and practiced in a peer-to-peer setting where fun is the focus, an environment free of the traditional authorities of home, allowing self-expression and personal Jewish-identity to form in creative ways through participation, suggests Dina Kraft of the publication Haaretz. It is the strong sense of identity and culture of each individual camp that provides the foundation for children to have rewarding experiences. Jordana Horn, contributor for the Jewish publication Kveller, echoes a similar sentiment: "It taught me that I would find a way to be Jewish independently from the home my parents had created–and that I would enjoy exploring different avenues of Jewish expression."
Locally, many of the DFW-area Jewish congregations and religious schools offer some type of summer programming, as do BBYO and the Aaron Family JCC, but extended overnight camps are in a league all their own.  Such Jewish sleep-away summer camps exist all over the country, and there are few regionally, which means many Texan children and teens travel out of state, sometimes hundreds or thousands of miles to attend their beloved camps. Family tradition is one factor that can determine which camp someone attends. According to Ben Sales of the Texas Jewish Post, "Overnight camp is a centerpiece of the American Jewish community, with children often attending and sometimes then working at the same camps that their parents attended."
Regional sleep-away camps that gained a reputation over the years include Greene Family Camp, Camp Bonim, Echo Hill Ranch, and Camp Young Judea (aka Yehuda). Other camps across the country often attended by Dallas Jews include, but are not limited to: Camp Tanuga, Camp Blue Star, B'nai B'rith Camp Beber, Camp Starlight, Camp Horseshoe, Council Camp, and Camp Wah-Konda (now Camp Sabra). Some of these camps are still in operation, others have closed or changed names, but their reputations live on in the memories of their campers.
As we emerge from our pandemic cocoons, overnight camps may seem like a distant memory to some while others navigate new territory to prepare their kids for summer travels. Wade into the waters of nostalgia to view our newest virtual exhibit: "Bonim, Greene, and Beyond: Summer Camp Memories from Dallas Jews," which aims to share the experiences of Dallas Jewish community members during their camp days, from the 1920s to 2000s.
Camp Bonim
 In the 1941, Jacob Levin founded Camp Bonim, affiliated with the Habonim Zionist Movement. The camp was located at Lake Dallas, in Denton County, Texas. Camp Bonim's purpose, as its first brochure states, was "to fortify today's youth for Zion's epic struggle." It was the only camp of its type in the Southwest, which attracted campers from all over, as well as several from the Dallas Jewish Community. Jenny Zesmer, the namesake of the former Jennie Zesmer BBG chapter, was also active at the camp beginning in 1942. The camp began declining in the late 1940s and ultimately closed in 1952. Our founder, Ginger Jacobs, attended the camp.
Some attendees of Zionist Youth camps like Camp Bonim also visited the Zionist hachshurah (training farm) in Cream Ridge, New Jersey. There is currently a Camp Bonim in Pennsylvania that is unaffiliated with this camp.
Aaron Family JCC Summer Camp
The JCC has offered summer day camp programming since the 1940s when the JCC was located on Pocahontas Street in the Cedars neighborhood of Dallas near City Park. Activities such as theater and swimming were included in daily activities. Today, the JCC offers the most diverse camp offerings in Dallas—from early childhood, to various sports, theater, Camp Chai, day trips, and overnights, among other activities— enticing hundreds of children of all ages to participate in and love JCC summer camps for decades. This summer was a little different. Fewer kids, fewer options, no over nights, but the JCC did their best to provide a safe and memorable camp experience.
I attended Dallas JCC day camp from the late 40's thru mid 50's at the old JCC on Pocahontas  Street. We used the public swimming pool across the park from there. A bus picked us up at home (University Park) in the mornings and dropped us off in the late afternoon. It was a long drive. Unfortunately I have no photos or memorabilia. Our sons attended day camp at the present JCC as did some of our grandchildren.  

My sister Gayle Borovay attended Echo Hill for many years. My cousins Leon Kaplan and his sister Nancy Lubar attended Camp Wah-Konda in the Missouri Ozarks which is today Camp Sabra (the St Louis JCC camp) where our sons attended and then 2 older grandchildren attended and 3 others more recently attend.

                                                                                                       
                                                                                                              ~ 
Memory of Marilyn Pailet, native Dallasite
Greene Family Camp
Greene Family Camp was founded in 1976 in response to the need and desire for Jewish families in Texas and Oklahoma to have a camp like others developed by the Union of Reform Judaism and the North American Federation of Temple Youth in other areas of the country.  Greene Family Camp's namesake is Edward C. Greene z"l, who was a founder of the camp. Eddie's reputation lives on at the camp, which is still operational throughout the year as a youth camp and retreat center.  It has evolved over the years with a unifying mission "to create a fun, safe, educational friend-filled environment that teaches and practices Judaism."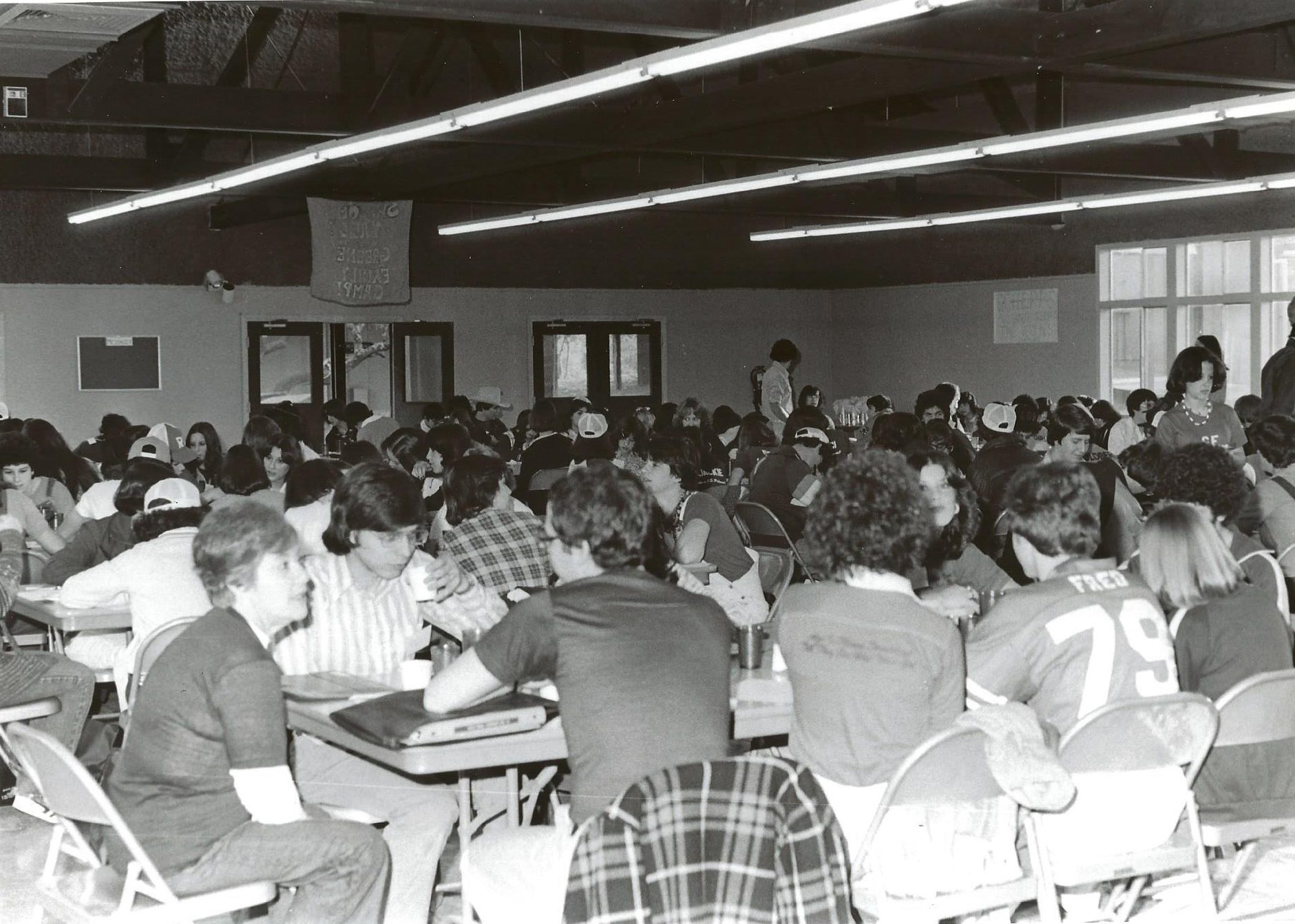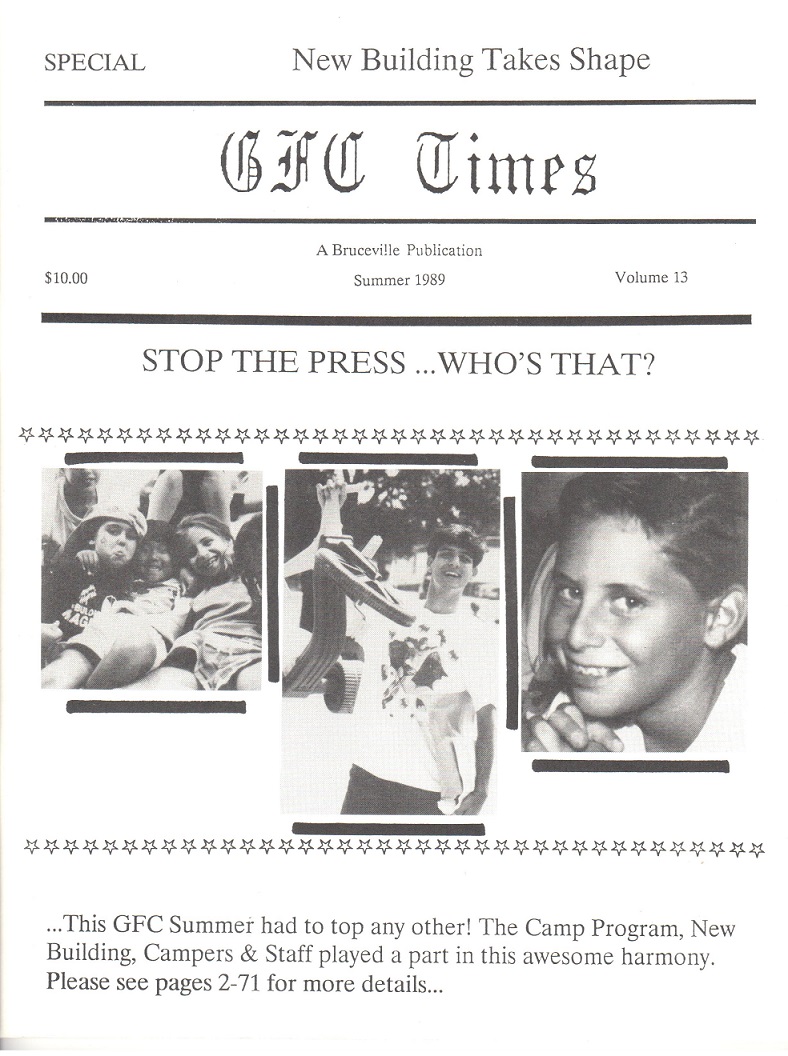 Click here to watch our past program, "
Family Ties: Stories From the Founders of Greene Family Camp & Temple Shalom," from September 19, 2019.
Camp Young Judaea, Texas
Camp Young Judea was founded in 1952 to provide a fun, challenging experience that instills a sense of community and love of Judaism through the lens of Zionism. The original location outside of Houston, in Bellaire, is still operational. They have recently opened second location outside of Wimberley geared toward private retreats. There are several affiliate camps around the country under the umbrella of Young Judea.
Echo Hill Ranch
Echo Hill Ranch, located in the Hill Country of Kerr County, Texas, was founded in 1953 by Minnie and Tom Friedman, who wanted to create a Jewish camp experience tailored to children who may not experience much Jewish culture in their daily lives. However, the camp welcomed children of all backgrounds. Today, the camp is still owned by the Friedman family, but will reopen in 2021 with a different mission – to service the families of military service members and first responders who have been injured or killed in duty. The camp was granted Wildlife Preserve status in 2011. Rabbi Jimmy Kessler attended the camp. 
Richard "Kinky" Friedman, Son of Echo Hill's founders once quoted his father, Tom, as having said, "Childhood at best is a fleeting golden moment in the race of time." It was their goal to create those moments at Echo Hill.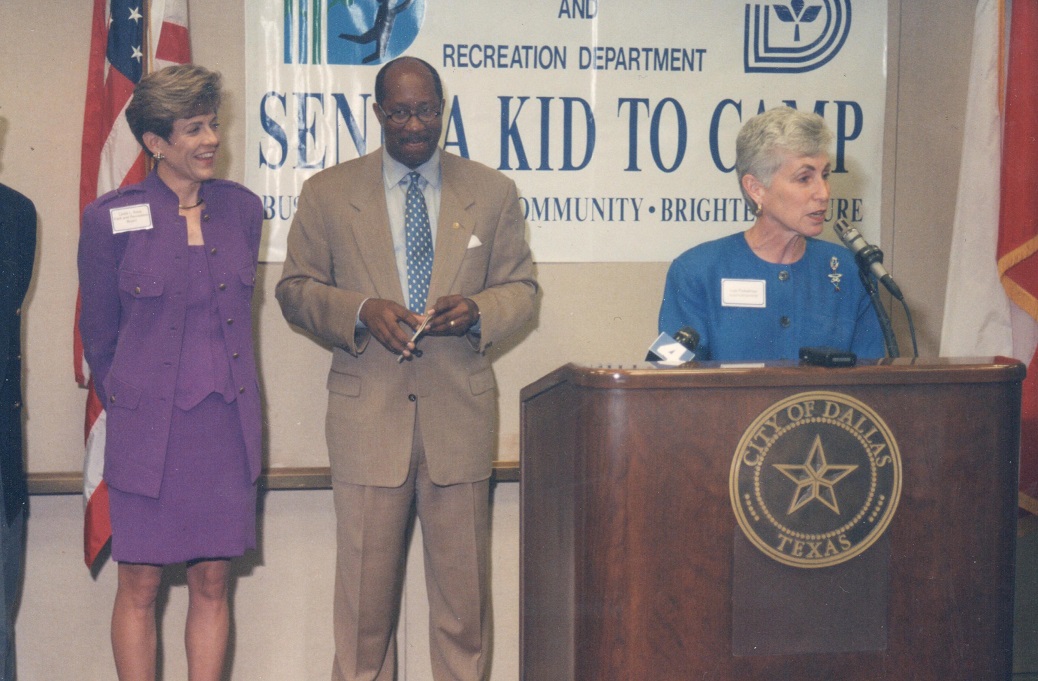 Jewish participation and influence in summer camps extends into the secular community. Here, Lois Finkleman speaks at Dallas initiative, "Send a Kid to Camp."
BBG/AZA Camp Starlight, Ginger Jacobs Collection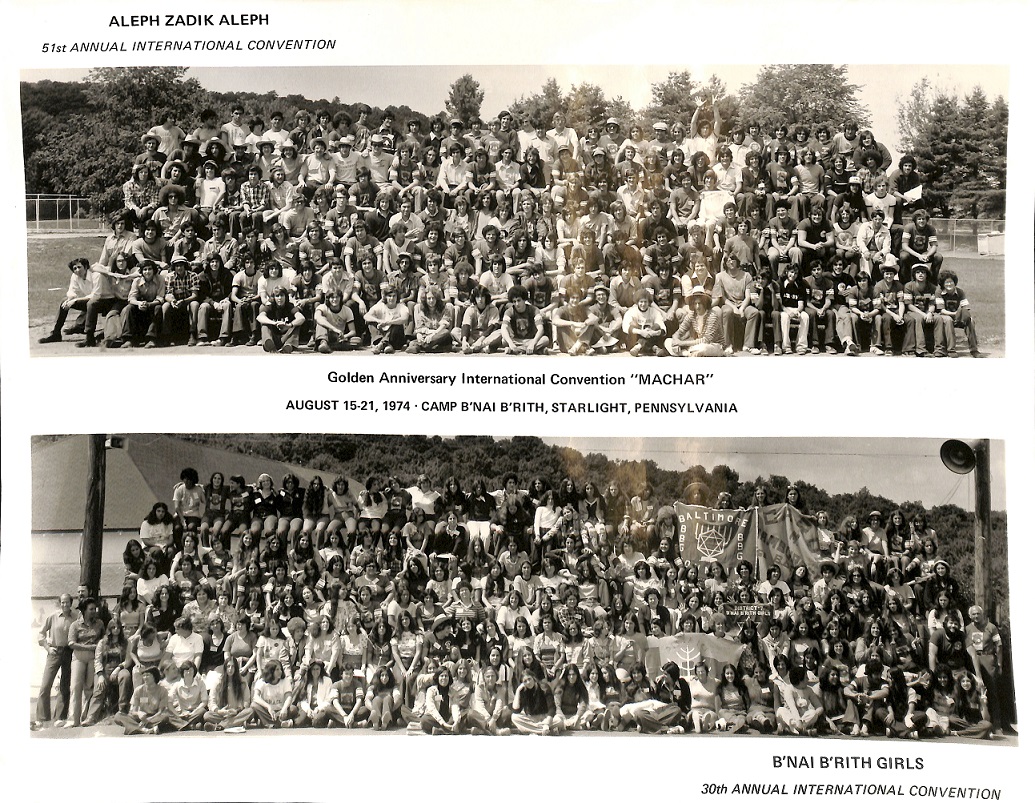 Council Camp
We don't know much about Council Camp, as resources are limited. We do know, however, that a member of the Wolfe-Blumenthal Family attended this girls-only camp in the 1920s.
Camp Tanuga
Originally a fishing retreat, Camp Tanuga opened in 1953 with 60 campers. While most of the teens who attend Tanuga are from the Michigan, many campers travel from Canada and elsewhere in the continental United States, including Dallas! Elizabeth Faeder, native Dallasite, former DJHS intern, BBYO participant and counselor, attended Camp Tanuga in Kalkaska, Michigan. It is owned and operated by a family friend. Liz shared with us, "my dad grew up in Michigan and was a counselor at the camp for a lot of summers. The owner of the camp is his best friend and also my god father so it was a given I was going to go to this camp no matter what."
Camp Blue Star, Hendersonville, North Carolina
Camp Blue Star is a co-ed, Jewish summer camp founded in 1948, attended by many Dallas Jews for decades. They focus on fun, growth-inspiring activities in a traditional Jewish camp setting.
B'nai B'rith Camp Beber, Mukwonago, WI
Founded in the 1980s with offerings for children and teens. Members of the Dallas Jewish community attended BBYO Midwestern Machon at Camp Beber in 1982. Camp Beber is still in operation and offers an three-week excursion to Israel in addition to its normal summer programming.
Local Jewish Day Camps:
Akiba Academy Camp Kualnu
Ann & Nate Levine Academy, Camp Shemesh
Anshai Torah, Camp Ruach
Aaron Family Jewish Community Center, Summer Camps – Camp Chai
Chabad of Plano, Camp Gan Israel
Torah Day School Dallas, Camp Kesher
Temple Emanu-El, Camp K'ton