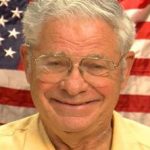 Joel Batalsky
Born in 1940 in Philadelphia, Pennsylvania. His father passed away when Joel was just five years old, and Joel grew up in an orphanage while having his mother by his side. A strong man, Joel received a wrestling scholarship to Temple University. He joined the military after studying business administration and accounting and graduating college in 1962. Joel and his wife have been heavily involved in the Jewish community in Dallas as active members of Temple Emanu-El, the Jewish Community Center, and various veterans organizations. Joel is a proud Jew and American, inspiring many with his desire to act with kindness and to repair the world around him.
Published on September 30, 2015 and amended on October 19, 2018.
To watch the video, click here.