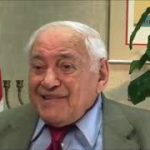 Jack Repp
Interviewed by Paul Lake in 2008 and again by Scott Farber in 2014.
When we are approached regarding a donation—as a local historical society, it happens often—the main question we ask is: "does this fit our scope?"—meaning we do our due diligence to make sure that our repository is the best fit for the materials. There are a number of factors that go into making that decision, including, but not limited to:
Size/available space (do we have adequate space and resources to properly care for this item in perpetuity?)
Redundancy (do we already have multiple similar items that are of equal quality?)
Does it relate directly to Jewish Dallas?
And, we give the same level of care and consideration to every item and inquiry.
So, when Ruth Andres—a founding member and past President of Dallas Jewish Historical Society—reached out to us concerning a few items that belonged to Clint Risner (of blessed memory), we agreed to assess his collection.
Clint was an active and dedicated DJHS Board Member and oral history interviewer for many years, who also had a deep love of Judaica and local/regional history. That passion led him to acquire a pair of six-foot tall electric menorahs that originally belonged to Temple Emeth in Ardmore, Oklahoma, after the temple closed in 2004.
Temple Emeth was established in 1907 following formal settlement of the Jewish community in Ardmore in 1890. We are able to confirm that the menorahs were present in the Temple in 1940, as witnessed by the photograph (above) of a Confirmation Class at Temple Emeth. (Photo courtesy of The Sherwin Miller Museum of Jewish Art, Tulsa, OK).
We knew upon hearing the history of the items and of the Temple that the menorahs needed to go to a Jewish museum in Oklahoma. The stars aligned when we contacted The Sherwin Miller Museum of Jewish Art in Tulsa, OK, which holds a collection of other items from Temple Emeth as well. We are thrilled to assist in the donation of these items; working with other regional organizations to ensure that collections are thoughtfully and accurately shaped is critical to effective Archive management and public access.
Transport has been arranged to get the menorahs to their permanent home, reunited with other pieces of Oklahoma Jewish history.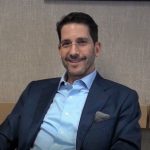 Rusty Cooper
Interviewed by Liz Faeder on July 11, 2018.
Click here to watch the video.