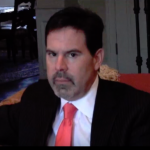 Craig Budner
Born in 1964 in Dallas
Now an attorney, he received the Ann Loeb Sikora Humanitarian Award from the Dallas Jewish Historical Society in 2013 for his philanthropic work in the Jewish and general communities.
Craig was originally interviewed on March 3, 2013 prior to being honored. He was subsequently interviewed on August 4, 2022 by Rose Hurwitz, an SMU PhD candidate studying disaster relief and resiliency.
To watch the video from March 3, 2013 click here.
To watch the video from August 4, 2022 click here.