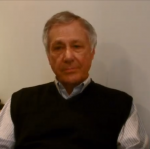 Harold Baeck
Born in Rhodesia which is now better known as Zimbabwe.
His parents met in Rhodesia and got married in Southern Rhodesia
He grew up in the town of Salisbury and went to the University of Cape town in South Africa from where he graduated as an architect. He started practicing in Salisbury and became famous in the entire country. He had offices in South Africa, London, Paris and Holland
He started a family in Salisbury and was the head of the Hebrew congregation as president for many years. He was also the chairman of various societies and president of the institute of architects.
He came to Dallas, Texas in 1986 to start a new life and got himself involved in real estate development.
Published on Apr 19, 2016
Click here to watch his interview.