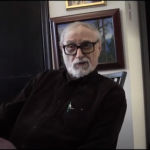 Marvin Greenberg
Interviewed by Jo Reingold on February 20, 2017.
Marvin was on January 27, 1931 in Waco, TX. As a Teenager he moved to Dallas, and later returned after graduating from the University of Texas. He opened Greenberg Drugs in Preston Center and maintained the successful business for over 40 years. Marvin passed April 23, 2020. DJHS will miss our longtime friend and supporter who not only added to Dallas Jewish history, but also understood its importance.
Click here to watch his oral history interview.