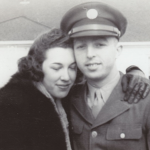 We're thrilled to share with you a selection of audio recordings from the Ellis & May Titche Wartime Correspondence Collection.
Mel Ginsburg, a dedicated long-time volunteer of DJHS, has been working hard to record letters from Ellis Titche to May Levy during their courtship and early marriage during the WWII Era.
There are many, many more letters to share, but here is a selection from the earliest days, August 1943. From the beginning, May kept and labeled each letter she received from Ellis. May's letters in the collection begin a little later, in Spring 1944. Because of this, the conversation seems a little one-sided, but not for long.
Listen below, or visit our SoundCloud.