Here we have a photo of a man in front of the piece, Dancing Duke, 1974, by the artist John Chamberlain (1927-2011). This piece was donated to the Dallas Museum of Art by Dr. and Mrs. Harold J. Joseph in honor of Mr. and Mrs. Max Walen, who are the donors of a John Chamberlain piece at the Modern Art Museum of Fort Worth. We need help identifying the man in this photograph. The photograph is in a custom frame and mat produced by a local framing shop that opened in 1985. The man's glasses look to be from the 80's, and the brick wall makes me think of NorthPark mall, because such famous art hangs on its walls. But we can find no evidence that it was ever shown at NorthPark mall.
John Chamberlain was an artist that worked in photography, prints, paintings, furniture, and 3D sculpture. He is well known for his large sculptures that utilize car and metal scraps turned into sculpture designs.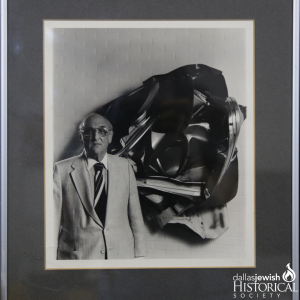 Currently, John Chamberlain has works at The Dallas Museum of Art, Nasher Sculpture Center, and the Modern Art Museum of Fort Worth.
https://collections.dma.org/artwork/3251414