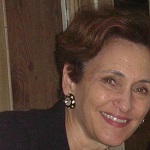 Esther Ritz was interviewed on April 22, 2021 by Deepika Ramesh for "Tzva'im – Colors of Judaism: Unbridled Expression in the Greater DFW Jewish Community."
Click here to watch her full 2021 interview.
Click here to watch the shortened version in the "Tzva'im" exhibit.
Esther was also interviewed by Rose Hurwitz on July 28, 2022 focused in disaster recovery and resiliency. Watch that interview here.