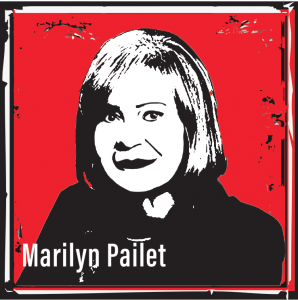 Marilyn – wife, mother, grandmother (Mimi), friend and realtor – has  been a true gift to DJHS. Her memory of early Dallas extends back to pre-DJHS where her authority comes naturally by being born into one of Dallas' bedrock Jewish families. Her parents were the beloved Frances and Ervin Donsky. After teaching high school for 2 years, Marilyn joined her family's business, Sterling Jewelers. After 43 years, Sterling's closed. Marilyn and her 3 siblings, Michael, Howard and her sister Gayle Borovay, have carried on the family tradition of contributing greatly to the Dallas community.
Marilyn was born during WWII, attending Highland Park schools, and was an active member of Zesmer BBG, and Young Judea. After graduating from Tulane University, where she was a member of the Jewish Sorority, Sigma Delta Tau, and President of Hillel, she married Harrell Pailet in 1962. They recently celebrated their 60th anniversary. Harrell was an officer in the Army, where they were stationed for 2 years in Germany. During that time, they adopted their son, Eric, who was born in a US Army hospital. Upon their return to Dallas, they adopted their second son, Jeffrey, through Jewish Family Service. Their family was complete as Marilyn and Harrell were then blessed with their third son, Kevin and shortly after, their fourth son, David.
Marilyn is in her thirtieth year with Ebby Halliday Realtors. She has received numerous business awards from Big D Magazine as Best Realtor and Texas Monthly Best Realtor.
In Marilyn's service to the community, some of her countless leadership roles have included Chair of the Federation's Teen Tour, serving on the DJHS board, Vice-Chair of the JCC, Shearith Israel, Akiba Academy Academy PTA, Hebrew Free Loan, National Council of Jewish Federations Women's board, Jewish Federation of Greater Dallas (where she served as Champaign Chair & Division President), President of Chai Chapter of B'nai B'rtih Women, National Hillel board and the North Texas Hillel Vice-Chair.
Marilyn has been the recipient of the Jewish Federation of Great Dallas' Frances Donsky Achievement Award and the Helen Gross Leadership Award. She was presented the L'Dor V'Dor award by the State of Israel Bonds. She is a life-member of Hadassah, Jewish Women International, National Council of Jewish Women and Shearith Israel Sisterhood. She was on of the 2013 Torah Fund honorees.
In recognition of Marilyn's extraordinary commitment to our Jewish Community, it is an honor to present Marilyn Pailet with the Ann Sikora Humanitarian Award.