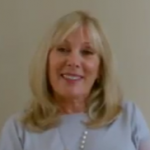 Linda Behr
Linda grew up in Johannesburg. She got married in 1973 to Lenny who is a doctor. In 1975, they started talking about moving from South Africa because of the riots and the very next year they took a trip to US, visited Dallas for an interview and decided to settle there. Linda learnt about the Jewish culture from her grandmother and she believed in passing it on to the next generation. Today, she is really proud of her children who attended  Jewish schools and have learnt a great deal about their culture.
Published on Apr 19, 2016
To watch the video, click here.