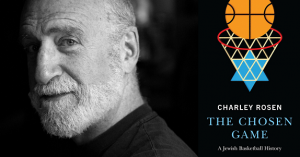 On Thursday, June 14th @ 7:00pm, the Dallas Jewish Historical Society was pleased to welcome Charley Rosen as the featured speaker for the 2017-2018 Annual Meeting of the Dallas Jewish Historical Society.  After the introduction and induction of new DJHS Board Members by our Vice President, Deborah Konigsberg; we heard a welcome and tribute from our Board President, Stuart Rosenfield; followed by an overview of the organization and the "Year-in-Review" by our Executive Director, Debra Polsky.  The evening culminated with a lively and engaging lecture by author and sports writer, Charley Rosen.
6'8″ Rosen, an American author and former basketball coach, who previously worked as an NBA analyst for FOXSports.com, and whose work has appeared on Fanragsports.com and hoopshype.com, is a native of the Bronx, and the author of over twenty-one sports books, including Sugar: Michael Ray Richardson, Eighties Excess, and the NBA (Nebraska, 2018), Crazy Basketball: A Life In and Out of Bounds (Nebraska, 2011) and The Chosen Game: A Jewish Basketball History. He has also coauthored two books with NBA coach Phil Jackson.
Mr. Rosen captivated us with the story of the origins of Basketball; covering the start and proliferation of the game,  what part Jews played along the way, and included many fascinating personal stories and behind-the-scenes looks at some of the most well-known names in the game.  Judging by the lively Q&A session afterwards, a good time was had by all.
Many thanks to everyone who attended the meeting.  You, along with our DJHS members, and our greater Dallas Jewish community, are the reason for the Dallas Jewish Historical Society.  We wouldn't be here without your ongoing support.
Please take a moment to check out our 2017-2018 DJHS Annual Report for information about the organization and what we do, along with a recap of all the different programs offered throughout the year.