Biennially, the Dallas Jewish Historical Society honors members of the Dallas community who embody philanthropy and humanitarianism with the Ann Loeb Sikora Humanitarian Award. This year's honorees are four outstanding women who have dedicated their lives to others within the Jewish and general Dallas communities. Continue reading to learn about one of this year's recipients.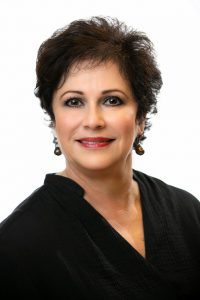 Melissa Weinfeld Ackerman grew up in Dallas and is a graduate of UT-Austin (1979) with a degree in Marketing.  She worked as a buyer for the Horchow Collection and traveled the world looking for special items for the catalogs.  Melissa has been volunteering in the Dallas Jewish community for nearly 40 years, and credits Ann Loeb Sikora as being one of her earliest mentors.
Her parents, Jean and Bob Weinfeld, have always given their time generously as volunteers and set a wonderful example of giving back to the community.  Melissa has served on the Jewish Federation Board of Directors and has been active in several Divisions. Winner of both the Campaigner of the Year Award and the Bess Nathan Young Leadership Award from the Federation, she also served as a member of the UJA National Young Women's Leadership Cabinet.
A past member of the Board of Directors of the Jewish Community Center, Melissa has also chaired many committees and fundraisers, serving as a Vice Chair of the Maccabi Games in 2005 and as a Coordinator and Recruiter of Volunteers for the 2015 Games.  Melissa was on the Board of Directors of Temple Shalom and Jewish Family Service and is currently a member of the Special Needs Partnership Leadership Committee.  She has volunteered for many years in the JFS Food Pantry, for which she received the Volunteer Spotlight Award.  Melissa was actively involved in the JFS Hurricane Harvey relief effort and received the Harvey's Hero Volunteer Award and the President's Award for volunteer hours served.  For over a decade, Melissa has given her time and energy to CHAI (Community Homes for Adults, Inc.), currently serving as Vice President of their Board.
Recently, Melissa, and her husband Baer, were honored by Jewish Family Service with the 2018 Special Needs Partnership Honors Award for helping our community grow to be more inclusive and open to people of all abilities.  They are the proud parents of Emily (fiancé Eduardo Gildenson) and Benjamin.
Stay tuned for additional highlights of the honorees!
Click here to register for DJHS Sip & Savor 2019.
Click here to learn about Ann Loeb Sikora and why we honor her legacy.