Biennially, the Dallas Jewish Historical Society honors members of the Dallas community who embody philanthropy and humanitarianism with the Ann Loeb Sikora Humanitarian Award. This year's honorees are four outstanding women who have dedicated their lives to others within the Jewish and general Dallas communities. Continue reading to learn about one of this year's recipients.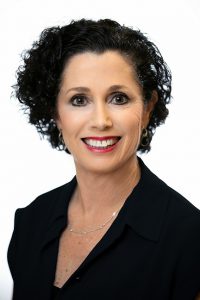 Brenda Weinfeld Bliss has had a passion and desire to work with children and those with special needs throughout her life.  Her early years as a JCC Camp Counselor and those at Muscular Dystrophy Camp led Brenda to pursue an undergraduate degree in Communication Disorders at The University of Texas at Austin and later to receive a Masters Degrees in both Speech/Language Pathology and Audiology through UTD, The Callier Center for Communication Disorders.
Brenda's experience in Los Angeles gaining specialized training in cochlear implant rehabilitation led to her own private practice, specializing in working with children with speech, language, and hearing disorders, where she currently leads a staff of ten speech/language pathologists.  Due to her expertise, Brenda has presented workshops all over the world including in Vietnam, Thailand and Innsbruck, speaking on cochlear implant rehabilitation and auditory-verbal therapy.
Locally, Brenda provides speech and hearing screenings and speech/language therapy services to many of the Jewish Day Schools including Torah Day School, Levine Academy, and Akiba Academy, as well as providing therapy services for adults at CHAI.
She currently serves on the Board of Directors of Jewish Family Service as well as the Special Needs Partnership.  A longtime member of Temple Shalom, Brenda has been married to Ron for 24 years and they are the proud parents of three boys, Alan, Brennen, and Ryan.  Brenda credits her parents, Jean and Bob Weinfeld, and their strong sense of commitment to the Jewish community and to Tikkun Olam for her passion for philanthropy and desire to help others.

Stay tuned for additional highlights of the honorees!
Click here register for DJHS Sip & Savor 2019.
Click here to learn about Ann Loeb Sikora and why we honor her legacy.