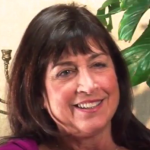 Tina Wasserman was born in 1948 in Hempstead, Long Island. Having grown up in a family that was heavily involved in the Jewish community, she continued this way of life in her adult years. Tina met her husband, Richard, at a USY convention and after many moves throughout the years, they ultimately settled in Dallas in 1982 when her husband was offered a job at Southwestern University. Through Tina's hard work and passion for teaching and cooking, she became the food columnist for Reform Judaism Magazine, a frequent lecturer, and has authored two cook books.
She was originally interviewed by Scott Farber on March 10, 2014 and subsequently by Rose Hurwitz on August 11, 2022.
To watch her original interview, click here.
To watch her addendum, conducted August 11, 2022, click here.